December 5, 2016 | The Irwin Family
Holiday Blog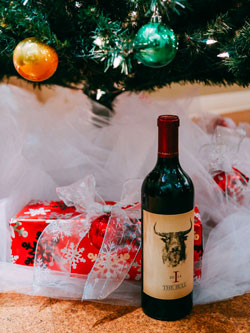 Holidays for the Irwin family means staying put. Other than our yearly outing to Apple Hill to kick of the holiday season to secure our pies, as well as a few apples, for Thanksgiving, we pretty much just hang out at home…all together…for a week or more. School can't come soon enough. When the kids were little, our holiday tradition was the stomach flu. With four kids, everyone passed that bad boy around so it usually took the whole holiday for everyone to get over it. Now we voluntarily stay at home, hanging out together. Between, work, sports and technology, there isn't enough time to get on one another's nerves.
Favorite memories…hmmm…as a creature of habit (listen to the same music, watch the same movies and shows on TV repeatedly, etc.) my favorite memories are of waking up with the kids, making coffee, and watching (as well as recording) the ensuing chaos. Stand out memories include falling off the roof, not once, but twice when putting up lights. Both times, no one was around- which begs the question…does a 240 pound man make a sound when he hits the ground and nobody is around to hear it? The answer… you bet and it generally starts with an "Oh shit" and finishes with a "What the hell…going to feel that tomorrow".
As a child, I do remember the anticipation. No presents until Christmas morning and it was like a toy store exploded under the tree… an ocean of presents for my brothers and I. Perhaps not the right message for the season, but it was pretty awesome to look at. Reality, though, was that half of the presents were—let's just say—not what was discussed with Santa. Most memorably, the smells of the holiday season. The pies being baked, the meats roasting, and the free-flowing wine…oh, the wine, even as a kid. The beautiful thing about wine is as you consume it, your inhibitions start to slowly fade away. Makes for great conversation, and as long as you can keep Grandpa's pants on, it's all good
Comments
Commenting has been turned off.
---