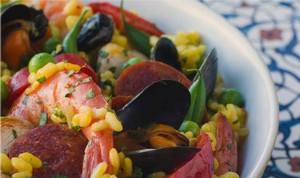 Paella to me is comfort food, a peasant dish but one that can be dressed up for a formal occasion. There are plenty of paella recipes out there but mine is done with a twist, use a cast iron pan versus a traditional paella pan and more Valenciana than anything else….a surf and turf of the paella world and I haven't met anyone yet who doesn't like some portion of this paella. Paella screams Spain and to me it is important for me that my kids and friends understand that Spain is not enchiladas and tacos….anything but and rarely spicey. Spain is a mix of cultures and flavors, much like the US and just because something is foreign doesn't mean that it must be complex. Like life, try and keep this dish simple.
My favorite version is using wild game but the one I make the most for family and friends consists of chicken thighs, pork sausage, shrimp and mussels. I cut the chicken and sausage into bite size pieces, season them with salt and pepper and then fry them in olive oil. Important here that the oil is really hot….almost to the smoking point. After browning the meat, I usually add tomatoes, garlic, green beans and peas and cook for about 5 more minutes, turning it off for the last minute. At this point, a high quality paprika is thrown in and mixed in. After putting the pan back on the fire, medium heat, I put in my rice. Here again I am a little different in that I do not require a specific paella rice, although nice, not a necessity. Most short-grained rice, like the widely available Arborio rice, works just fine. After sautéing the rice a little, waiting for it to absorb all the oil and flavors, I deglaze the pan with a little white wine or a lighter bodied Spanish red. Once finished with the deglazing, I start adding the warm stock, little by little. I stir in the stock and once about half in I add my shrimp and mussels and try to cover with the rice. After the remaining stock is added I stop stirring and allow for a nice crust to form on the bottom of the pan……secret here is the best part and the mark of a properly made paella. Remove from the heat and allow it to cool for about 10 minutes. Just before serving throw on some sliced lemons and parsley. Buen provecho!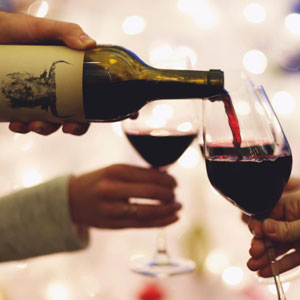 At Irwin Family Vineyards, we love wine because of what it does. Wine has the ability to bring people together - to make people talk, share ideas, unwind and unclench. We love wine because it can play a part in breaking barriers and generating dialogue. When we set out to start Irwin Family Vineyards, we wanted to be different. We didn't want a château or dozens of employees. We wanted to create something simple to be enjoyed amongst family and friends; a humble, daily beverage.
Recently, two of our wines were chosen as Editor's Picks by Wine Enthusiast. Our 2012 Tempranillo earned 91 points and our 2013 The Bull earned 90. We couldn't be more thankful that what began as the desire to create something simple has been recognized by one of the world's most acclaimed associations.
We want to thank the folks over at Wine Enthusiast for the honor and also our friends and family for their continued support.
To view the full articles, visit the links below:
---